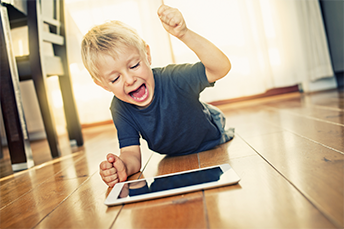 AgeCheq leads the industry with innovative technology solutions covering the intersection of privacy and mobile devices.  Since most of today's privacy issues are the result of technology, it's only logical that technology can be created and deployed to solve those problems.
How we help make data privacy regulations work for parents, publishers and children
As written, data privacy regulations like the Children's Online Privacy Protection Act (COPPA) requires game publishers to build and maintain a complex relationship with parents of children who use their games.  Privacy notices and permissions must be sent and received before a child can begin playing.  Parents must be positively identified before they can approve apps, and by law, they must be able to easily revoke their permission.
For a game publisher, the effort and cost of building their own compliance system would be very high, which is why few apps, websites, and games are COPPA compliant today.
For parents, a world where every game publisher had their own unique identification method and dashboard would be extremely confusing.  For developers, dealing with the details of each and every new data privacy laws like the EU's General Data Protection Regulation (GDPR) could be an undue burden.
What both parents and publishers need is a single-sign-on central clearinghouse service that manages all required notices and permissions from data privacy laws worldwide and streamlines interaction with easy-to-use dashboards and mobile apps.
That's exactly what AgeCheq's cloud compliance service provides.
We also market other digital privacy products for consumers, mobile banking, connected cars, smartphones and intelligent device manufacturers (IOT).